Exchange Presumptuously Likened to iPhone Launch, Comparison Surprisingly Apt
When the federal health exchange launched, the administration made the fatal flaw of comparing it to the release of the iPhone.  Based on the general response on the Internet, the final arbiter of sanity and reason, this comparison was roundly met with ridicule. A concerning number of unoriginal puns about apples, oranges, lemons and other fruit were used to illustrate this point.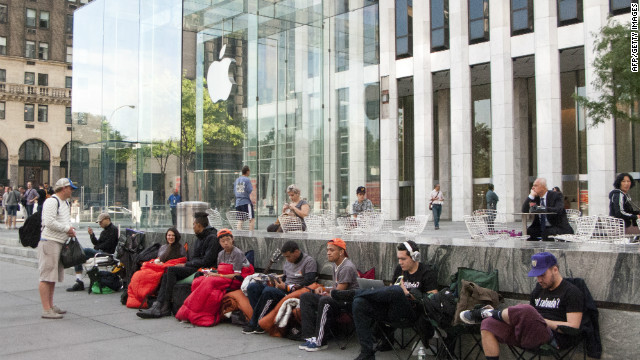 This comparison isn't nearly as outlandish if you look at the launch of the first iPhone.
January 2007: Apple introduces the first iPhone, and announces Cingular (remember them?) as its exclusive launch partner, heavens part and angels sing.
June 2007: iPhone goes on sale for $499 (4GB) and $599 (8GB) with a 2-year network contract, hundreds of people line up to purchase, many a joyful tear shed.
July 2007: Amidst reports of the phone being completely sold out, AT&T admits problems with phone activation due to high demand.
August 2007: Users routinely experience unusually slow data speeds (this is before 3G/4G/LTE, mind you), spotty service and dropped calls due to the overloaded Cingular/AT&T network. One user receives the now-infamous 300-page iPhone bill, itemizing each data transfer record.
September 2007: Apple cuts price by $200 a mere 3 months after launch, leads to outcry. Steve Jobs pens an open letter apologizing, and provides $100 store credit for early purchasers.
January 2011: AT&T's iPhone exclusivity comes to a merciful end, iPhone 4 finally available on Verizon's networks.
Present: iPhones continue to sell like hotcakes on all four major cellphone carriers, hotcakes honored to be mentioned alongside iPhone.
Points:
At the time, these were issues worthy of mainstream media attention, but I feel comfortable betting on the average iPhone user not even remembering it now.
The advent of the iPhone not only marked a revolution in technology, but sparked competition among other smartphone manufacturers and fostered financial growth in new markets (apps, iTunes digital content, accessories, extra Candy Crush lives).
Despite these issues, the iPhone is still seen as an overwhelming success.
It's too simplistic to compare the exchanges to the iPhone, but like the fruit-branded smartphone, health exchanges can fundamentally change an industry, too.  That iPhone was the beginning of several iterations; there have been refinements, nerd flamewars, overhauls, and debacles of varying sizes, but it was a revolutionary product that changed the way millions interact with technology and each other.  And it continues to improve.  Affordable health insurance will rarely be greeted with such enthusiasm on Christmas morning, but health exchanges have the ability to improve health, provide financial security, and save lives.  It'd be shortsighted to declare the launch a failure, especially since we're still in the pre-order phase.
Tags: ACA, covered california, exchange, hbex, iphone, nonsense